Why Choose Carolyn
Serving Clients from San Luis Obispo, Santa Maria, Paso Robles and Beyond.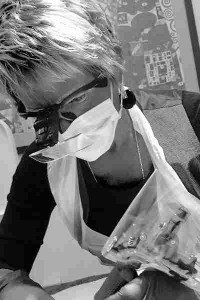 On your first visit to Carolyn Elliott Permanent Makeup, Inc you will experience why she Central Coasts' leading expert year after year – with over 20,000 procedures since 1998.
With her Nth degree attention to detail, Carolyn Elliott CPCP has mastered symmetry, artistry, technical color application in making her the best and most sought after permanent makeup artist on the Central Coast.  She has spent years studying and perfecting her skills by consistently attending advanced training courses, conventions, seminars, and workshops.  She travels thousands of miles per year to study under some of the best permanent makeup artists in the world, particularly from Eastern Europe, England and the US.
When it comes to tattooing, Carolyn is a highly experienced and multi-talented artist with her expert skills in super fine lines, shading, smudging and combinations of techniques by use of a digital machine. Carolyn's natural artistic ability began as a pre-schooler and continued with hard work, perseverance, and dedication, becoming a gifted, award-winning artist by High School. She is well-educated, conscientious, detailed artist who can achieve all desired looks.  Whether you are looking for soft, natural and enhancing, or darker and bolder or more defining and dramatic, Carolyn can achieve the look that is right for you every time.  Her work has earned her the respect and referrals of many plastics surgeons, dermatologists, estheticians, electrologists, hairstylists, make-up artists, other permanent makeup artists as well as many others in the health and beauty industry.  Along with a large clientele of her own, many have traveled from far away places; South Africa, New Zealand, Brazil, to have their procedures performed by her, while many others have traveled just a few hours or a few minutes.
Carolyn's knowledge and high standards, along with style, commitment to artistry, ethics, and professionalism have brought her much deserved attention.  Come see why she is the permanent makeup artist everybody is talking about on the Central Coast.
She is a life-time member of the Society of Permanent Cosmetics Professionals.
Recommended and recognized by physicians on the Central Coast and across the United States for her ability to cosmetically improve patients' and clients' self-esteem.
A past donator of her services, her "Pay it forward" attitudes has treated many, many breast cancer survivors with her post-mastectomy Areola Re-Pigmentation.
Permanent Makeup application is Carolyn's sole business and true specialty.
"I wanted to thank you for the permanent cosmetics (eyes, brows and lips) that you did for me. Your art, your professionalism and your talents are truly superior. After consulting with several technicians in the area, you definitely stood out as the 'right choice.' I am confident that I picked the best and am telling my friends too. Thank you for all that you did for me while I was in your care."
Margaret P – Santa Maria, California