SKIN REJUVENATION WITH MICRO-NEEDLING
What is Micro-Needling?
Micro-needling treatments provide exceptional Collagen Induction Therapy via fractional delivery of needles into the epidermis and dermis and are the only procedure which targets all 3 major cells. These micro-injuries to the skin encourage and capture the power of the body's innate ability to regrow and repair the skin through the physiology of Collagen Induction.
When rejuvenating the skin, two key goals are in mind;  First, balance cell function and second, preserve the integrity of the epidermis.
In many cases, visible improvement is noticeable even after the first treatment.
Note: These results can vary from client to client based on the condition and age of each individual's skin.  Each Micro-needling treatment is recommended to be spaced 6 – 8 weeks apart.
What areas of the skin can be treated?
Micro-Needling offers a solution for all skin conditions that clients might seek treatment for: Wrinkles above the lip, Crows feet, Fine lines, Uneven skin tone, UV Damage, Hyperpigmentation, Rosacea, Actinic Keratosis (skin barnacles), Hair-restoration, Thin skin density, Lax skin, Loss of adhesion & resiliency, Epidermal density & strength, lifting and rejuvenation.
Are everyone's results the same?
Because everyone's skin is unique and each face comes with their own history, the answer is no. This all is depending on your age and condition of your skin. Where one client may see great results with one session, another client may need more to achieve the same results.  Like going to the gym, we can get your body in shape, but not overnight. Please be patient.
How many treatments are recommended?
Though some of you are going to start seeing results after one treatment.   We really recommend more than one treatment for the best results, in addition to using your Dermal-Roller with GlymedPlus products in between your treatments after you have healed. This will definitely boost your results. We highly recommend the "Packages of 3", our most popular package to start with.  From there, an evaluation can be made to determine if additional treatments are needed.    We recommend spacing your treatments apart six to eight weeks apart.
How will I look?
Great!  You will feel sunburned in some areas for a day which will reduce to pink in 24 hours. Areas targeted with fine lines may appear redder for a few more days. These reddened areas can take up to 3-4 to slough off.  We highly recommend Jane Iredale Mineral Makeup only.
Does the treatment hurt?
Not at all. An anesthetic will be applied before the treatment is started and will remain on for a proper amount of time. Your procedure will be amazingly comfortable.
*No part of this page may be copied or duplicated in any manner.  Carolyn Elliott Permanent Makeup, Inc © 2017
What are the benefits of Micro-Needling?
Cost effective less than laser treatments
Skin is thickened, tightened and elasticity is restored
A natural response to collagen is induced
Can be performed on MOST skin types pigmentation marks are lightened
Fine lines and wrinkles are softened
Quick healing time
Can be repeated
No ablation of the epidermis (like Microdermabrasion)
All areas of the face, neck, and body can be treated.
Can last 2-4 years or with natural aging process                                                                                                                          Excellent treatment for upper lip lines, under eyes, sun damage, wrinkles, fine lines, uneven skin tone, UV Damage, Hyperpigmentation, Rosacea, Actinic Keratosis (skin barnacles) Hair-restoration, Thin skin density, Lax skin, Loss of adhesion & resiliency, Epidermal density & strength, lifting, and rejuvenation.
What are the costs per treatment?
Micro-Needling treatments vary in costs depending on the area being treated.  The prices can range from $100 – $700 per session depending on the size and the number of areas being treated. For example, Under Eyes, versus Full Face and Neck. By pre-purchasing packages, the cost per treatment can be even less.   For prices, please visit the "Prices" tab on this website.
Is there anything else I should know that's important?
Absolutely! Prior to your Micro-Needling Treatment or after, as a means for maintenance, we recommend the use of Medical Grade Dermal-Rollers (available for purchase in the office) in conjunction with Professional Only GlymedPlus Products (based on the recommendation of our professional and the condition of your skin).
Anytime you are under these treatments, you must be using a high-quality sunblock to protect your skin. We recommend GlymedPlus Photo-Age Environmental Protection Gel 30+.
Why choose Micro-needling over Laser or Micro-Dermabrasion?
Well by now, you have a good understanding of Micro-needling. Lasers only target fibroblasts (A fibroblast is a type of cell that synthesizes collagen, and plays a critical role in wound healing). It heats up Melanocytes, causing darks spots or hyperpigmentation in the future. Micro-Dermabrasion is abrasive to the skin which causes inflammation. It only targets keratinocytes (A keratinocyte is the predominant cell type in the epidermis, the outermost layer of the skin, constituting 90% of the cells found there).
In regards to the quality of products I put on my face, what is the difference between a Cosmetic and a Pharmaceutical-grade? Why are pharmaceuticals-grade better?
The FDA divides skin-care products into two categories: cosmetic and pharmaceutical. Pharmaceutical grade skin care products (products that can only be purchased through a skin-care professional) undergo much more rigorous testing before they can be released. This testing can last for as long as 10 years and cost millions of dollars. These products penetrate the layers of the skin to affect its structure and function. For this reason, pharmaceutical products are held to a much higher standard of purity.
Cosmetics do not have to go through this process and many carcinogenic ingredients are used as preservatives. These companies spend millions of dollars a year in advertisements. That's why they're all over the Sunday paper or the magazines you read.
GlyMed Plus is a pioneer and industry leader in the field of pharmaceutical skin care products. Our products follow a four-step system to fight the effects of aging, acne, sun damage, pigmentation, Rosacea, and other skin conditions. Our unique four-step system provides the versatility to allow you to be as gentle or aggressive as you'd like to be with your skin care program.
The Four Steps To Your HomeCare:
 Cleanse: The first step of the GlyMed Plus system removes oil, dead skin cells, and environmental pollutants and debris, which can form dangerous free radicals in the skin.   
 Treat: The treatment phase of the GlyMed system provides your skin with active ingredients proven to treat your specific condition to restore, replenish, and revitalize your skin.
 Balance: The active ingredients used in GlyMed's Balance products revive your skin's ability to repair and renew naturally giving you a healthy, natural glow.  

 Protect:

The application of protecting ingredients allows your skin to grow and build healthy cells while being shielded from pollutants, debris, and the sun's harmful ultraviolet light rays. 

                                                                                                                                                                                                                                                                    

We will recommend the appropriate products for your skin type to be used in conjunction with your short-term and long-term treatment regime and your Derma-Roller. You will be very surprised and pleased to find that Glymed Plus Products are reasonably priced and because they are not filled with additives, preservatives, and binders, you are actually using less of the product. Therefore, it is lasting longer. I use mine nightly…I'm at six months.
Let us know if you have any questions. We're happy to help.

Trained under the watchful eye of 3X Certified Micro-Needling Expert, Mary Ritcherson, Carolyn received her certification to perform Micro-Needling and Collagen Induction Therapy in her office.  After some time, she met Dr. Lance Setterfield at an SPCP Conference and then attendend his Advanced Dermal Needling Training.  She references his material on a weekly basis.
Below, not only will you find in-office results, but also a few of Mary's Before and After Photos (with permission) too, so that you all may see examples of the exceptional results that can be achieved with these treatments.
Are you ready to schedule your appointment?  You can start right here on this website.  1. Go to the "Schedule" tab, 2. Fill out and Submit the Pre-Client Questionnaire, 3. Include some photos, 4. Fill out and Submit your "Appointment Policy."    We'll be calling you once we receive and review your paperwork.  As soon as we have you scheduled, you'll need to come right back to this same tab within 48 hours to make your deposit for holding your appointment.
**Please note, if deposits are not received within 48 hours of making your appointment, the system will remove your appointment.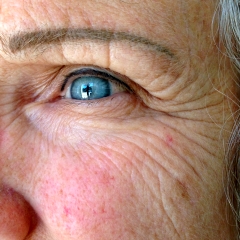 Before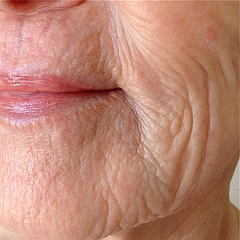 Before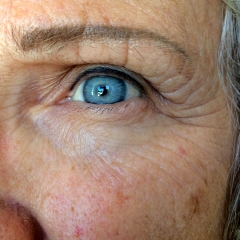 After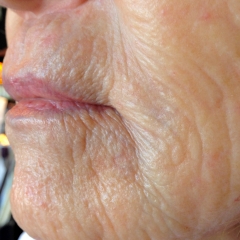 After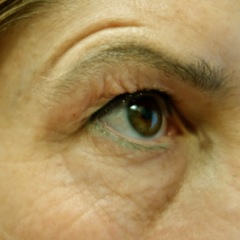 Before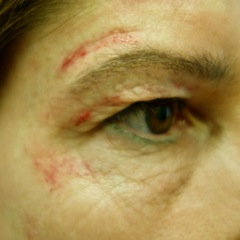 After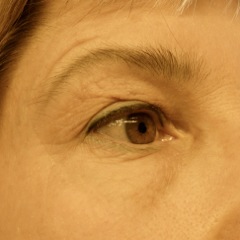 Healed
Sun damage and skin tightened around the jowl area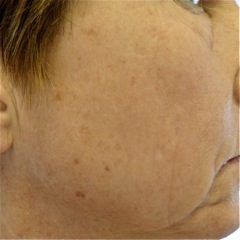 Before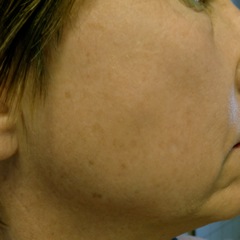 After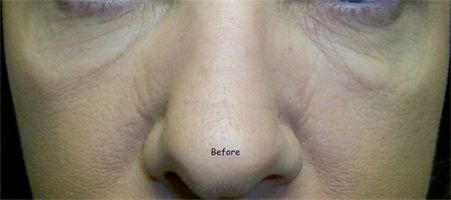 Before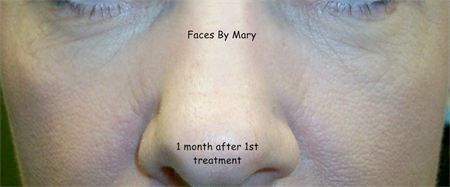 After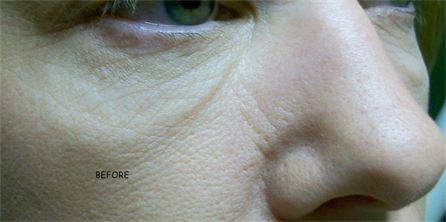 Before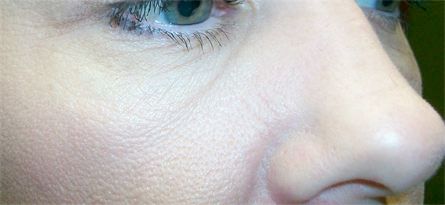 After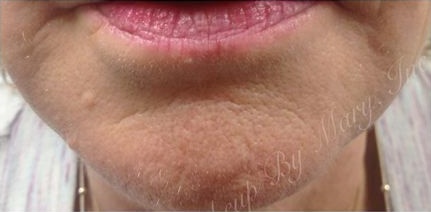 Before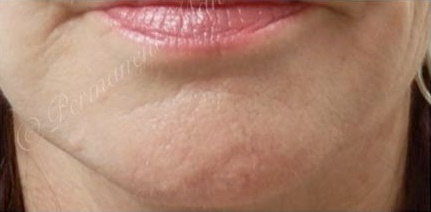 After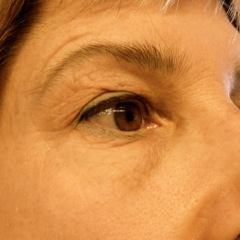 Before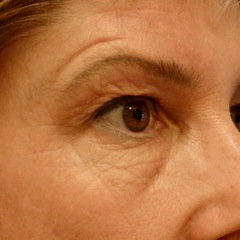 After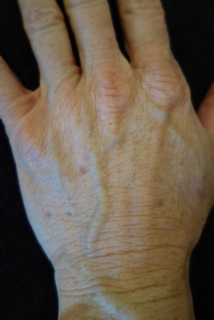 Before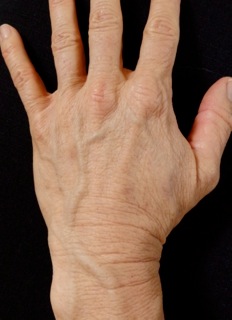 After