Imagine a make-up that wears so well that you won't have to take it off at night. 

One that won't run when you go swimming or when you work out. 

Tears won't even smear it!
Permanent Make-up, also called Permanent Cosmetics, can save you time every morning.

Best of all, it looks better than conventional make-up.
Who I Am & What I do
An internationally recognized master in the application of Permanent Makeup. The only Nationally Certified Master Permanent Cosmetic Professional (CPCP) on the Central Coast.
Carolyn Elliott, CPCP – with over 20,000 Permanent Makeup procedures completed, she is an unquestionable artist.   Carolyn also has a background in Nursing and learned early on that continuing education is extremely important for staying on top of the latest advances in the industry.  As a result, Carolyn has spent years studying and perfecting her techniques by consistently attending advanced training classes, workshops, conventions, and seminars. She even travels to foreign countries to have the privilege of studying with some of the industries most talented Permanent Makeup Artists. In the USA, she has had the privilege to train with talented Master Permanent Makeup Artists as well.  This is where she learned techniques of shading, powdery effects, super fines lines, shading, and smudgy edges.  Her mastery of symmetrical, technical, artistic and the color application in the skin has made her one of the best and most sought after permanent makeup artists in the State of California.
Carolyn has always been known for her artistic ability, dating back to the early 1970's. Her eye for details, standards of cleanliness, work ethic, and deep passion for the art, show in her work. She is a multi-talented, well-educated, and grounded artist who can achieve all desired looks. Whether you are looking for soft, natural and enhancing, darker, bolder or more defining, Carolyn can achieve the look that is right for you each and every time. Her work has earned her the respect and referrals of many plastic surgeons, cosmetic doctors, hair salons, stylists, makeup artists, estheticians, and other permanent makeup artists throughout the years. Along with a large clientele of her own, many have traveled from all over the world to have their procedures completed by Carolyn. Her knowledge, artistry ethics, high standards, and commitment have brought her much success in the permanent makeup world. Come see why Carolyn is the permanent makeup artist everyone is talking about.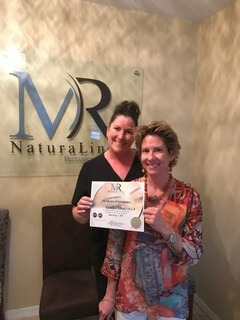 Carolyn receiving her certificate from Mary Ritcherson of MR NaturaLines, her long-time idol, mentor, 3x instructor, and friend – "Mary inspires me to be better today than I was yesterday, everyday."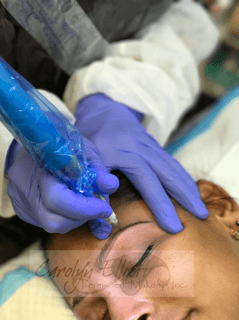 Carolyn training at MR NaturaLines